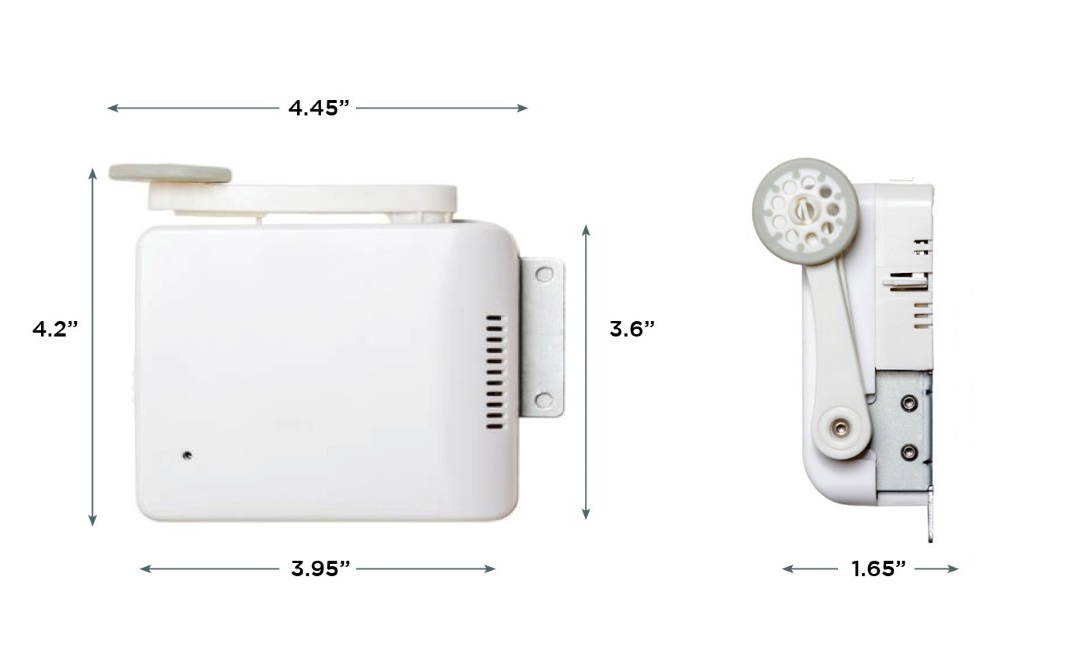 Two (2) 9v Energizer Max Alkaline 522 VP
75 db. Sound Pressure Level (SPL) at 10 feet
6 LED array, 1 RGB status LED
Vesper VM1010 Piezoelectric MEMS microphone with proprietary listening algorithm
32° to 104° F (0° to 40° C)
Free-swinging door with normal hinges (not spring hinges or 'slow close') able to latch without making contact with flooring or jamb.
Most UL listed smoke alarms manufactured after 1996 that emit a T3 tone
Smoke alarm must be mounted in the same room within 6 feet of Mindr unit
One Mindr Unit
Quick Start Guide, important safety information, warranty statement
Two 3/4" installation screws
Two 9v Energizer Max alkaline batteries
Invented by firefighters, Mindr is the only product on the market that can detect the sound of most UL listed smoke alarms from up to 6 feet away, automatically close the door to slow spread and alert you of the danger.
If a nearby smoke detector goes off, Mindr's powerful swing arm will close the door (without slamming it). It uses a listening device that only responds to the specific sound of a smoke alarm, and then emits its own audio warning as well as flashing an LED light while it closes the door it's guarding.
Additionally, the secondary alarm and light may alert you or loved ones who are deep sleepers, use sound-dampening devices to help them sleep such as ear plugs, white noise or CPAP machines, or those who are hard of hearing.
Two 9V batteries power the unit. The LED light as well as a chirping sound will let you know when it's time to replace them. While not a fire detector, Mindr is a smoke alarm companion that increases fire safety in your home. This door-positioning device is an easily-installed unit that can close a door, helping slow a fire and provide precious time to protect what matters most.
Mindr is a fire protection door minder that is ever vigilant and always ready to spring into action and protect your home and family. When you close your eyes at night, you can rest easy knowing that you and your loved ones have a guardian watching over your safety.
Mindr is an easily installed device that will stand guard and spring into action the moment it senses danger to help slow down a fire and provide precious time to loved ones, pets and property. It is ever vigilant and always ready so you have peace of mind and can rest easier.
Fire Safety & Why Closed Doors are So Important
The National Fire Protection Association publishes more than 300 codes and standards that are intended to reduce the possibility and effects of fire and related risks. Most people know how important it is to have active smoke detectors and working fire extinguishers in their home, and may even have fire blankets and emergency fire ladders. Many, also, especially those with small children, have created fire safety, prevention and escape plans in case the worst happens. What most people probably don't know is how much closed doors can help to reduce fire spread. (Source: National Fire Protection Association)
The simple act of having doors closed in a fire can provide you and your family with precious time to find a way out or create survivable space until the fire department arrives. A closed door helps to protect family, loved ones, pets and property in the event of a fire by slowing the spread of fire, smoke and toxic fumes including carbon monoxide.
However, not everyone wants to sleep with their bedroom doors closed, for a variety of reasons. Whether it's access for small children or pets in the home or for air circulation, many people prefer to leave their doors open. In the event of a fire, however, an open door means increased risk.
How Closed Doors Increase Fire Protection
According to research published by the Close Before You Doze campaign promoting door closure before bed, modern fires burn faster, hotter and more toxic than ever before. Mindr creates a barrier to slow that spread. A fire needs oxygen to burn. A closed door keeps more oxygen in the room for its occupants and away from the fire. Additionally, 50% of house fires happen between 11 p.m. and 7 a.m. Closing your doors before you sleep helps keep you safe.
Forty years ago, the average time available to escape a home fire was 17 minutes. Today, it's three. Due to synthetic materials, furniture and construction, fire spreads faster than ever before. (NIST Technical Note 1455-1, February 2008)
A closed door also makes a 900° difference - a reduction of temperature in the closed room from 1,000° down to 100°. Additionally, during a fire, a closed door can keep carbon monoxide levels at 1,000 PPM versus 10,000 PPM if the door is left open. (Source: UL Fire Fighter Safety Research Institute)
If you and your loved ones are home - or even asleep - Mindr provides an additional layer of fire protection and fire safety by creating a barrier - the door - between you and a fire and its smoke and toxic fumes. If a fire should break out while you are not home, Mindr is still there to provide that barrier for pets and your property. Mindr can help slow fire spread, reduce damage and create survivable space for people and pets who are unable to immediately escape.