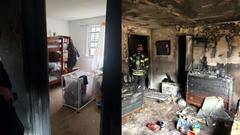 When a fire occurs, a closed-door can save your life and those of your loved ones. Mindr™ has a system that can automatically close your doors for you when a fire is detected.
Many recent news articles demonstrate the importance of a closed door, and several firefighters and safety professionals urge homeowners to close their doors, especially at night, when families can be most vulnerable. Half of all residential fires occur at night, and closing your door can make a big difference in the damage to your home and yourself! Here are a few examples.
Southington, Connecticut • March 4, 2020
Firefighters investigated an apartment fire and found a door closed inside. Most of the apartment was severely burned, with a dresser inside the room outside the closed door being almost completely ashen in color. On opening the door, they found a child's bedroom. The condition of the room was astonishing. The place was virtually untouched! The fire department reports that the temperature outside a room with a closed-door can reach up to 1,000 degrees in a fire. The temperature inside the room would only reach around 100 degrees at maximum and mostly under that amount. This can buy the valuable time that rescue workers need to save lives and property.
Bend, Oregon • March 2, 2020
A house owner heard a noise coming from a bedroom and found the room full of smoke. Closing the door prevented the fire's spread and allowed the fire department to put out the flames safely without causing harm to the owner of the house. Without the door shut, smoke and gas could have spread through the house and caused a lot more damage.
Center Point, Alabama • March 1, 2020
The Center Point fire department advises people not to run into their homes and businesses when a fire is in progress. This comes after two deaths within the last six months from homeowners that had run into their houses when they were on fire. Toxic gases and smoke, which contain cyanide and carbon monoxide and the lack of oxygen in a scorching environment can lead to a quick death. Center Point Fire Chief Gene Coleman says, "One quick breath and you're gone."
Springdale, Arkansas • February 29, 2020
Fourteen-year-old Austin Steele was in his bedroom at his grandmother's house when he smelled smoke and heard a pop. He opened his door and saw a lot of fire. He couldn't make it to the room where his grandmother was due to the fire, so he shut the door and laid a towel down to prevent smoke from entering his room. He then exited the room through his window and crossed the courtyard to the garage. He then started banging on the door to get his grandmother's attention, and she finally exited through the garage to safety. Without the doors to protect them, Austin and his grandmother could have been seriously injured. For his heroic actions, Austin received the Good Samaritan award from the city of Springdale.
Mindr™ can automatically close your doors in the event of a fire and give you that critical survivability, especially if the fire occurs at night.
Our Vision: To help protect family and loved ones and reduce property damage by closing doors automatically when a smoke alarm sounds.
Our Mission: To slow fire growth, reduce damage and create survivable space for people and pets who are unable to immediately escape.
How many Mindr units do you need?